Toua
-Basic Information-
Age: 15
Gender: Male
Race: Unknown
Appearance: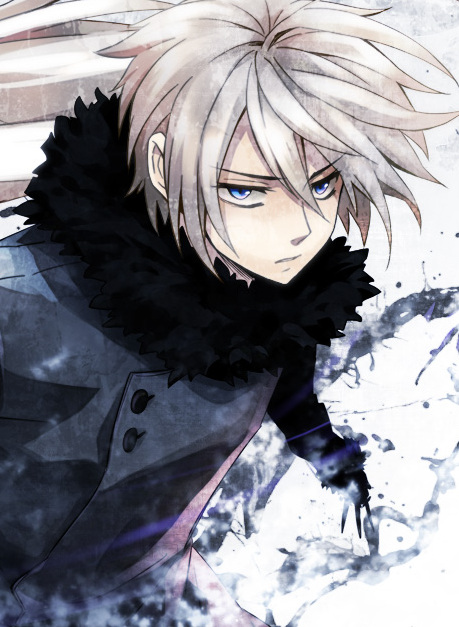 Toua is a skinny male with pale skin, silver hair that has a layout of many strands from the center, skype blue eyes lmao, sharper face, thin black eyebrows suggesting something changed with his main hair. His face is relatively defined with a semi-pointy chin.

Back to his hair, it is low cut (disregard the mass behind him in pic above.) He always appears relatively angry or bored. His height is 5,11 and he weighs 115 lb. Toua's attire is the jacket/coat shown above along with black jeans. 
Starting Location: C-056 (North Adamin)
History: Toua can't remember anything of his past. [Early Character Pass]
Element: Earth
Personality: Toua isn't that bad really. But you'd have to know him pretty well to be cool with him. In any situation, he's very confident in himself and his abilities. However, he won't put himself in obvious harm's way if he can't defend against it. Believing in himself, he knows he's capable to be one of "the greats." So the standards held by him to his own person are much higher than the normal individual. 
Knowing he can be great, he hates losing even in the smallest of things. If he were to lose in something important, he'd likely have to leave and train for a while before finding himself again. 

Mentally, he's extremely self-aware of both his prowess and faults as well as highly intelligent. Often, he classifies his thought process as so above that, in his mind, there'd be little reason to explain himself or even express his thoughts to the rest of the world. 

Despite all this, he's very strong-willed. If he falls, he bounces right back up. He cares for people he knows more than himself, but say one wrong thing and he won't hesitate to fuck you over.

Often, his pride can cloud his judgement. But even he understands this when it happens making for strange effects. 

Finally, taken to the very heart being something that will never change about Toua, he always believes there is a way to do anything and he is determined to find that way no matter what it takes. 

Aside from this, he loves fighting and confrontation, people hating him, love too, meeting new people etc. 

Generally, he's to himself and doesn't care to actually start the speaking. Maybe he's playing how he thinks he should be. And finally... Toua is very point blank, blunt, and says truth without regard. 
Likes: Challenges, WINNING and having power, being feared-respected-etc, the craziest of the world, how strange he is, fruits, danger and thrill, being alive to see the world, cocky people, people who are too nice, overly positive people. 
Dislikes: Other's pride, heroic types, people who act without thinking nor reason, lack of apples, those who lack open minds, people insulting him or things of him/shit talkers, LOSING
Sample Story:
- Sadly, I don't need one. 
Forgot my stats. 
Basic Stats:
Health: 15
Chi/Phi:15
Strength: 10
Agility: 20

Bending Stats:
Strength: 22
Precision: 12
Fluidity: 12
Speed: 12
Resourcing Stats:
Spirit: 20
Navigation: 11
Medical: 20
Everything Else at 1





Last edited by Toua on Sat Jul 30, 2016 7:43 pm; edited 10 times in total