Name
: Almighty Push
Element
: Air
Rank
: X
Backstory
: This bending technique was formulated due to airbenders finding themselves in a decent bit of danger from frontal attacks that were from material bending like earth and ice. After perfecting it, it served as another line of defense and even offense. 
Appearance
: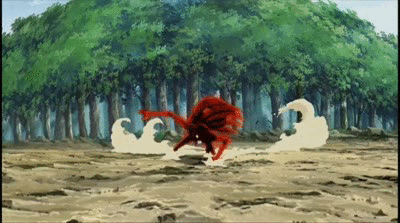 Activation Motion
: For directional, 1 arm and hand out, palm open. 
For spherical, both arms to side and palms open. 
Duration
: 1 Post
Cooldown
: 3 Posts
Range
: 75 Meters
Forces
: 95 Blunt Force
Speed
: 95 Speed
Health
: 95, 190 Resistance. (Since it's a protective barrier also)
Stat Boosts
: -
Stats Required
: 75 Bending Strength, 50 Bending Speed,
What it does
: 
V1:
User lifts arm outward and opens palm. And a barrier of forceful wind is shot forward. With a thickness of 1 meter, 2 meters wide, and 2 meters high. It travels at technique speed forward. If someone has less strength than the technique, they will be won't fly away. Regardless, they receive 95 Blunt Force. Any techniques with less power than the force of technique shall be deflected and not damage the resistance of the barrier. Basic items like shuriken, kunai, arrows etc are always deflected. 
This version will continue until hitting a surface capable of stopping it or until it reaches max range. 
If one is knocked back by this, they will fly at 95 speed in the opposite direction. 
V2:
User lifts both arms and performs activation motion. And air barrier flies out in all directions. It can be formed directly around the user and around or .5 meters out from the user then outward. It is 1-meter thick, and if off the ground, it will form below the user as well. However, this is not the case when on solid ground. 
This has the exact properties of deflection and knocking people away as explained on V1
V2 can be extended up to the maximum range but can be stopped anywhere else also. 
Character Specific
: -
Wordcount to Learn
: 4,500
Action Cost
: 80 AP
Bonus Requirements
: -
Canon or Custom
: Semi-Cannon