Appearance:
l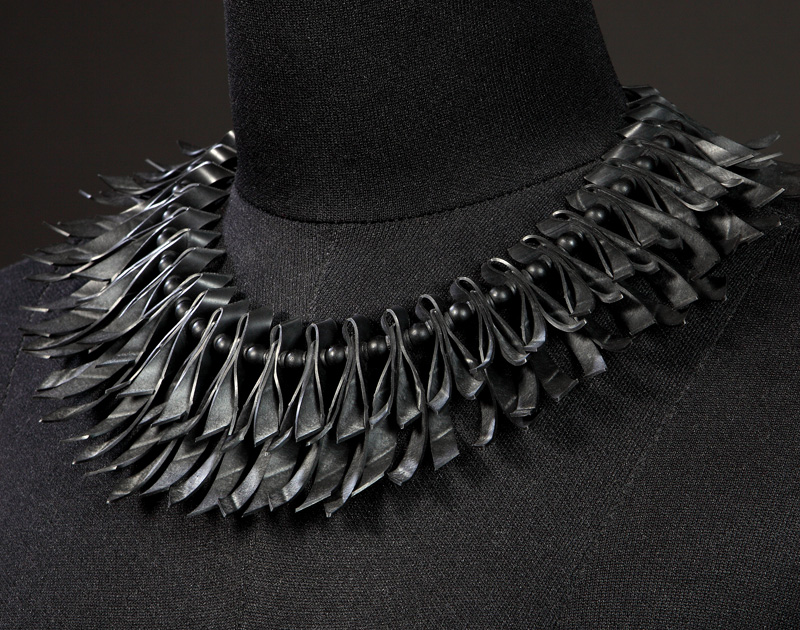 A fully all greyish metal necklace that's separated into many strangely-shaped pieces. 
Backstory:
l This was the last of the 8 relics of Moro. Said to be the most up-front, destructive of them all by him. He wanted a relic that could strike direct fear into the souls of all beings. Humans and spirits alike. With his divine knowledge, he imbued a standard relic with the blessing of the void. 
What it does:
l Any material being bent by the user turns to a shadow pitch black color at the speed of 150. Any attack that touches this black material will instantly lose 50% of its force only once. [So no touching again, and down to 25%.] And objects require 50% the normal force to break them when using the black material. Thus 100 Health on a stone acts as if it is 50 Health. This is due to the attack used now ripping through the object physically and attacking from the dimension known as the void. The shadow knight's domain.
Finally, the user can store and retrieve items at their reaction time into the pocket dimension of the shadow knight. Up to 10 items can be stored this way. Each item must be able to fit within a 10 meter cube however.
Note, this dimensional chest is tied to the relic and not the user. Thus if items were to be left in here. The next person to receive Endarek would be able to access the left behind items. 
Guardian:
l Kagegami - The Shadow Knight
Price:
l No set price, all trades must be in character
Resources Needed to Craft:
l N/A