Type:l Defensive & Utility
Settlement/Nation Exclusive:l No
Appearance:l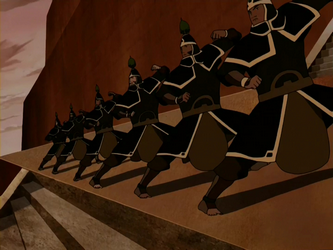 [Pic just there to be there, explained below]

A nation can only have one visual look for all of their guards.
Once the first is bought, describe a physical appearance of their armor/what they wear.
Make sure to incorpate the nation's color and symbol if there is one into the guard-attire. 
What it does:l Once placed in a zone, the zone is filled with decently capable guards. 
Stats:

Guards do not have bending. 

45 Health, 55 Chi/Phi, 50 Strength, 40 Agility

Whatever armor they have has 60 Health. 


Each has 1 basic sword with 60 Sharpness, measuring 65 centimeters. 
Guard Density:

Guard density is depending on the amount of guard upgrades in a zone. 
1: Guards every now and then, surely enough to keep the peace.
Close enough to be called to.

2: Guards are pretty plentiful, you can see them ever 30 - 40 steps of walking. 

3: Guards are very abundant and often you're standing right beside one. 

4: Guards are watching nearly every possible path / top security.
Guards will enforce any laws and rules set in the civilization. If laws are broken, special actions can be set. However, default includes typically arresting or fining those who break them.

Otherwise, that's it. 
Amount of Construction Slots:l 1
Bonus Info:l Must have housing in the same zone to use.