Name: Dimensional Edge
Element: Air [Legendary Technique]
Rank: Z
Backstory: Dimensional Edge is actually based on a rather peak-level move from the spirit realm, this being a similar attack called "Samsara Transcendence". It is a nullified version of what Moro used to split the physical and spiritual worlds apart. It was later sealed into the spirit, Fuu. - By Moro
Appearance:
Version 1 (visible as a moving white slash)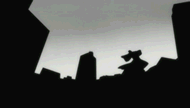 Version 2
Activation Motion: Arm sweep (version 1), finger thrust (version 2)
Duration: 1 post
Cooldown: 3 posts
Range: 300 meters
Forces: 300
Speed: 110 (Traveling speed)
Health: -
Stat Boosts: -
Stats Required: 90 Bending Precision, 90 Bending Speed, 45 Bending Strength
What it does: The user creates a massive pressure and force schism using an airbending technique that requires a shift across two "planes" of air, the distance between which is a little less than 10 microns. As such, the technique produces a variety of matter-splitting effects.
Version 1: After the activation motion, the user splits matter in a straight plane extending out to the range of the technique. The technique is 10 microns in thickness, and 6 meters in width. Dimensional Edge checks every target in its path, evaluating each object's health individually. Should an object not have high enough health, the technique will split it; otherwise, it will leave it alone. This can also be cast in a skin-like barrier around the user, interrupting incoming attacks that require a medium to travel through. (Slicing damage)
Version 2: The user thrusts his finger forward, channeling the split in a "tunnel" rather than a "plane". Instead of resulting in a massive schism in matter, this creates a rather neat hole about half an inch in radius in the objects targeted all the way out to the jutsu's range. It's like a gunshot that requires no bullets. Again, each object is evaluated separately based on its own health. (Piercing damage)
Of course, this makes it very hard for someone to NOT hurt their own teammates, but that's one of the reasons why it's a forbidden move.
Character Specific: -
Wordcount to Learn:5000
Action Cost: 100
Bonus Requirements: Have Fuujin connected to your spirit, claim on limited list.
Canon or Custom:Custom


Last edited by Kozai on Fri Jul 08, 2016 4:23 pm; edited 1 time in total