Name
: Earth Inscribe
Element
: Earth
Rank
: E
Backstory
: Toua was experimenting with his new found capabilities of controlling or what Moro's tablet called "bending" the element of earth. After becoming tired through repeated use of other techniques, he placed his hand on a large rock that was rather flat. Palm against it, he pressed down while thinking of a phrase. And poof, with the sound of a sudden shift, the rock was inscribed on. 
Appearance
: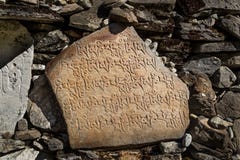 Obviously in the user's known(s) languages. 
Activation Motion
: Place palm on bendable surface.
Duration
: 1 post, inscribe last forever.
Cooldown
: 1 Post cooldown
Range
: 5 Meters radius , aka the inscribing must fit this size.
Forces
: -
Speed
: 15 Speed
Health
: -
Stat Boosts
: -
Stats Required
: 10 Bending Precision, 10 Bending Fluidity
What it does
: 
Once the palm is placed, the user has 5 meters at max of surface area on the bendable object, that they can inscribe on. 
Any image or symbol/message can be made and will remain afterwords. 
The inscribing forms at technique speed. 
Character Specific
: -
Wordcount to Learn
: 500
Action Cost
: 10 AP
Bonus Requirements
: -
Canon or Custom
: Canon