Name
: Spirit-Body Resonance
Element
: N/A
Rank
: Z
Backstory
: This comes as natural effect when one has fully mastered spirit and also forming a powerful physical body. Using Spirit as a force to shift and augment the strength of one's body, the user mimics the power of a god. 
Appearance
: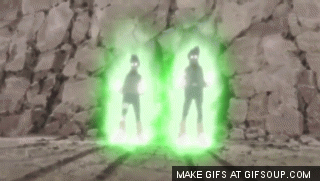 User gains an aura as shown above. The aura's color is that of their primary spirit color. 
Hair becomes the color of secondary spirit color. 
Activation Motion
: Thumb ups and have thumb hit chest positioned to aim for the heart. 
Duration
: Up to 7 Post
Cooldown
: Amount of post used + 5
Range
: Self
Forces
: -
Speed
: Happens instantly 
Health
: -
Stat Boosts
: - None directly (Still counts as a booster)
Stats Required
: 100 Spirit, 100 Strength 
What it does
: 
Having mastered body and spirit, the user utilizes the spirit itself to increase one's physical capabilities beyond what most imagined. 
Cancerous Explanation:

Naturally, one's spirit and body should overlap. When they are not overlapped, both forces try to combine like magnets to restore balance again. 

By vibrating the spirit out of the user's body at will, it creates a force combining the two efforts of the body and spirit. 
The user's spirit stat is temporarily added to their Strength, Health, and Agility. 
Character Specific
: No
Wordcount to Learn
: 5,000 WC
Action Cost
: 100 AP activation, 40 AP per post upkeep. 
Bonus Requirements
: - Claim on Limited List. 
Canon or Custom
: Semi-Cannon